Just a quick look at some of the instrument building (or restoration) projects that are on the bench:
No. 26 – June – Parlor guitar, spruce/mahogany

This is a new guitar form that is intended as the "big sister" of the Jenny ukulele form (see below). The first run will have the same wood combination as the Jenny No. 25, so they will hopefully turn out as a pair of instruments that stays together. Currently a scale length of 620 mm is planned, but there is certainly some leeway to shorten by 10 or even 20 mm, or even to go up to 628 mm.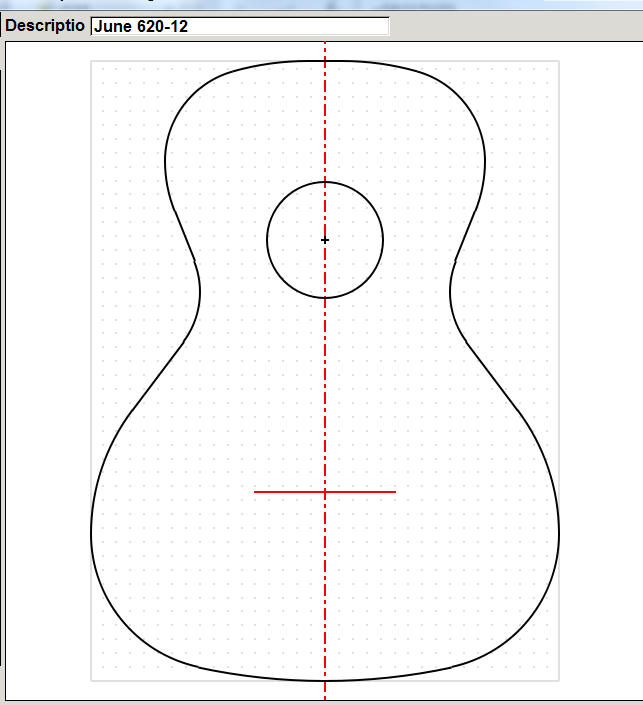 No. 25 – Jenny – Tenor ukulele, spruce/mahogany

This is a first run of my new tenor ukulele form – it's called Jenny. The top is baked spruce, the back and sides are solid mahogany. Currently in progress, sides are bent, top and back are cut, rosette inlaid, bracing is cut and ready to glue. The neck is near completion – unfortunately I made an error marking the neck at some point, so it is a little too long. I haven't decided whether to
Put it away for some other instrument and make a new one (which would be a lot of extra work)
Place the nut closer to the body, but it's off by quite a bit an I think that would look really odd
Use a longer scale length (440 or more)
Use a slightly shorter scale length (about 425) and join at the 13th fret instead of at the 12th
Voting is still out on this one, so let me know what you think.
No. 24 – Update – Taro patch (8  string) ukulele, spruce/plum

26 May 2019
Well, the work on the taro patch ukulele for my brother has been a really bumpy road. I'm now working on the third top for this instrument.
The first one was a piece of spruce that I only "baked" for a very short time, and I decided the color wasn't golden/amber enough, so I'm going to put that top on a different instrument.
The second one turned out a really pretty amber color. I used a simple 3-ring rosette on it and had all the braces glued and shaped. It was all ready to go, then I had to leave for several weeks on an extended project assignment and when I got back… the top wood had bent itself around the other way so there was a slight dip in it, rather than the slight dome it had before!
Anyway, I'm not one to give up easily, so I tried bending it all back the right way on the bending iron and while I was at it the edge of the lower bout snapped and broke off. Needless to say, more than a few tears were shed that evening. I ended up taking off all the braces, whereby some damage was caused when I removed the middle fan brace. I did manage to glue the edge back on, and the joint looks very good, practically invisible, and is absolutely stable, so I may put this piece on some other instrument.
The third and hopefully final top is in the making right now. It is also made of baked spruce, this time with a fairly dark amber color. The rosette is made from a leftover piece of plum wood with a ring on either side.
Pictures to follow.
This is planned as the replacement ukulele for my brother – if you haven't yet, check the description of No. 21 – Wana'ao to find out more.
I was able to get some nice pieces of plum wood from one of my favorite sawyers and I found a lovely piece of cedar that was exactly the right size (check the picture on the right). However, I've been playing the Wana'ao a lot lately and have been so pleased with the color, glow and fantastic sound of the baked spruce  that I decided to use a piece of the same wood on this one.
On a side note, I found the invoice for the bubinga I bought back in 2008, so I could actually apply for export/import of the Wana'ao from Europe to the US. I don't know if I want to bother with the hassle, so I'm simply going to continue with this build as if it were my calling card in Hawaii. But the Wana'ao would certainly fit the bill as well.
More to follow.
Terz guitar/ukulele set, cedar/walnut – BENCHED
This set has been "on the bench" for a really long time – it's a terz guitar and matching ukulele, both made from exactly the same (pieces of) wood and with matching shapes and designs. The tops and backs are cut for both and the rosettes and soundholes are complete.
Currently, I am working on the form for the guitar, as it was only rough cut and the two sides were asymmetrical. Years ago, I managed to build and then trash a ukulele body using a form that was not cut correctly, so I would rather put the effort into getting the form right this time. I'm also rounding the bout curves out a little more, just have to make sure the previously cut top and back pieces still fit. I assume I'll want to do the same thing with the ukulele form when I get to that. The sides for both instruments are rough cut and thinned almost as far as I want them, just a wee bit to go.
Pictures to follow.
No. 22
Classical guitar based on Torres/Hauser with Engelmann spruce top, flamed maple back and sides, alder neck, wenge fretboard and accents. Scale length 648 mm (subject to adjustment). Next steps are to put the tail graft in, put the rosette and soundhole in the top, and cut the slots in the headstock. Unfortunately, I've been spending much too much time on No. 23 lately, but the order of completion is definitely set – simply because I want this one to be No. 22.
There will be a few things that don't line up with the Torres/Hauser precursors, in particular a bolt-on neck, a slightly radiused fretboard and probably just a simple set of rings around the soundhole instead of an intricate rosette, as the latter would take me much too long to complete – I think.
RECENTLY COMPLETED – for further details, check the pages under Builds
No. 21 – Wana'ao – Completed 08/2018
Update 15 Aug 2018: Well, she's pretty much finished, all I have to do is glue on the bridge and screw on the tuners – and optimize the setup, of course. Here are a few pictures of the body with shellac/oil finish.
This is an eight-string tenor ukulele for my brother who lives on Kauai. The top is thermo-treated German spruce with a nice honey color and very pretty, glowing silk. The back and sides are bubinga. I kept the three fan braces that I normally use on a tenor uke and just added a little height to them, and I also used a bridge plate (for the first time in quite a while).
No. 23 – Jasmine – Completed 08/2018
Update 29 Aug 2018: The order of completion has taken a turn, if not to say a loop. The e-guitar with walnut top is now practically completed. Numbering remains the same, however. We chose the name "Jasmine" for this one. The back plate still need to go on, though it isn't really necessary. And I am considering adding a piezo, but that's still just an idea.
Slight change of plan. E-guitar with alder body, figured walnut top, figured maple neck, rosewood fretboard. I haven't decided whether to polish the back and sides in black shellac, possibly with a bwb binding, or in cognac/amber shellac with black binding. I'm planning to use a black pickguard, Tonerider AC2 pickups, Fender scale length 648 mm. All subject to change and adjustment.