This is a pretty little soprano ukulele that actually has quite a story to tell. Originally, I had made it for my niece, Amelia, and had arranged with a friend that he would create a pony inlay for the headstock. Well, time went by, the instrument was practically finished but the inlay just wasn't ready. So I waited and waited and at some point I gave up and put different inlays and overlays on both the body and the headstock. As soon as I was finished with the inlay work, the pony inlay from my friend arrived.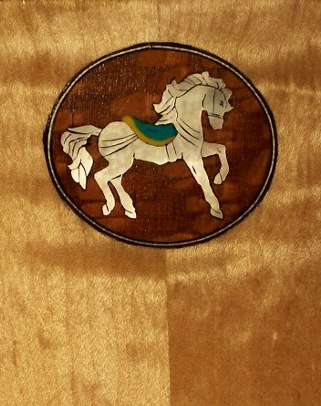 Alas, the beautiful little pony no longer fit on the headstock, so what I did, believe it or not, is I made another ukulele for my niece, took the pony out of the quilted maple and inlayed it in the headstock of the new mahogany ukulele.
So the quilted maple soprano body with the "mexican style" inlays was left. I mad a new neck and added extra MOP dots to the bridge, the headstock and the fretboard. The full name is actually «Tesouro da Infanta Isabel» (English: «Princess Isabel's Treasure»). I eventually gave this one to my dear mother for her birthday.
Details (as far as I can remember):
Top: German spruce
Back and sides: Quilted maple
Neck: Alder
Fretboard and headstock: Baked flamed maple with MOP dots
Bridge: Rosewood with MOP dots
Binding: Wenge (I think)
Tail graft: Rosewood/mahogany